User Meeting
With 47 participants, the first de.NBI Cloud User Meeting took place in October 2018 in a 3 day event in Bielefeld.
The user meeting was organized in a use case session with presentations from early adopters and a Hands-On session for learning new technologies and best practices in the Cloud. Workshops ranged from basic introductions into OpenStack and Nextflow but also covered service oriented areas like e.g. Kubernetes in order to help scientists to work with the Cloud but also to support science gateway developers in building software which runs the actual research.
Finally, all attendees had a chance to meet the cloud experts and ask them specific questions regarding challenges they encountered but also to express their ideas which helped us to collect feedback to shape the future of the de.NBI Cloud.

Due to this great success we are now planning the next User Meeting which will take place this summer. We will notify you in the next weeks. Stay tuned!



New de.NBI Cloud Website and Logo!
The de.NBI Cloud site has now a new design with a theme that uses official de.NBI colors and thereby goes well with the de.NBI website.
With the launch of the new website we will offer new content such as testimonials describing projects running already in the de.NBI Cloud and a better explanation of services we offer now and in the future.
Screenshots: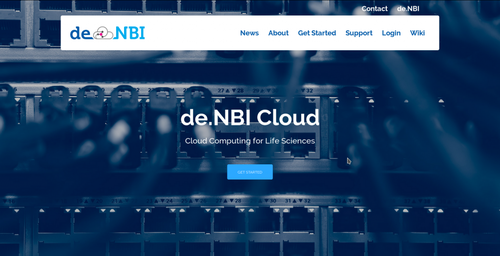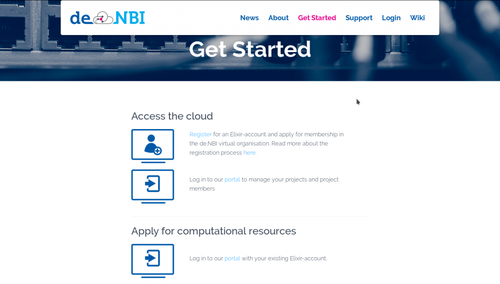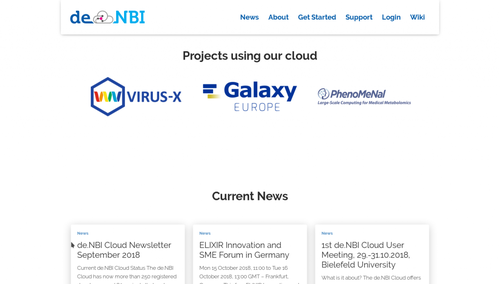 Register your identity provider
Since the beginning of the de.NBI Cloud we allowed you to use your university account instead of Google, LinkedIn or ORCID. However many universities and research institutions are still not part of EduGAIN and the infrastructure provided by ELIXIR. Therefore we created an article that describes which steps are necessary in order to integrate your research institution to ELIXIR AAI. This article contains step by step instructions that can be handed to an administrator of your institution.

RStudio
At the end of 2018 we organized our first user survey in order to improve our services and expand our portfolio so it fits the needs of our users.
According to the survey we decided to offer RStudio as an official de.NBI Cloud service. RStudio is an integrated development environment (IDE) for R which includes features such as an syntax-highlighting editor, a console and tools tools for plotting, debugging and workspace management.
In the meantime we offer a tutorial that allows you to set up your own RStudio server in the de.NBI Cloud.
Another result based on the survey is the enhanced need for an easy to use cluster solution in the cloud. BibiGrid is a solution that allows to set up a compute cluster and operates on any operating system a Java runtime is installed. Besides running on OpenStack which is used in the de.NBI Cloud, it also runs on Amazon Web Services, Google Compute Engine and Microsoft Azure.
Last but not least we improved our de.NBI Cloud BibiGrid tutorial.



de.NBI Cloud Portal Updates
The de.NBI Cloud Portal is under constant development and besides the work on the UI we also offer new functionality such as the following:
Administrators of Simple VM are able to see and manage all instances that were started.
Snapshot functionality in the Simple VM project type which allows you to create an image of your running instance and share the image with members of your project. Read our Wiki article for more information.