Current de.NBI Cloud Status
The de.NBI Cloud has now more than 250 registered developers and 80 projects that scale from 1 virtual machine for simple pipeline development projects up to 100 virtual machines for Big Data use cases. Among those projects there are projects like Galaxy.eu and PhenoMeNal which are used by thousands of scientists in Germany and Europe.
New de.NBI Cloud Portal Features
The project applicant can now set project members as project admins. This means that a project member can add or remove other members and thereby relieve the initial project applicant.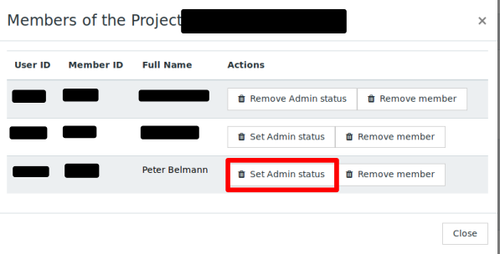 Furthermore a project admin can now invite other developers without an Elixir account to a project. The admin sends the project-specific invitation link to someone he wants to invite. The invited person enters the link in the browser and will then be guided through the application procedure that allows him to apply for cloud access and the specific project.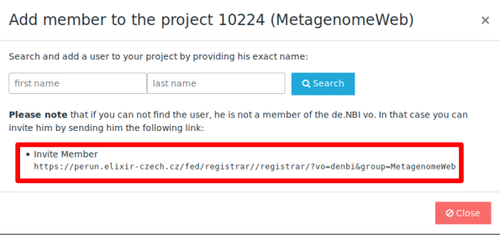 Once the application procedure is completed successfully, the project admin will immediately be notified about the application and prompted to approve the application of the invited person.


New Simple VM Features
You can now start your own Desktop in the Cloud. If you are part of a de.NBI Cloud simple VM project, you can start an X2Go image that can be accessed from your local computer independent of which operating system you are using (Linux, Windows, MacOS).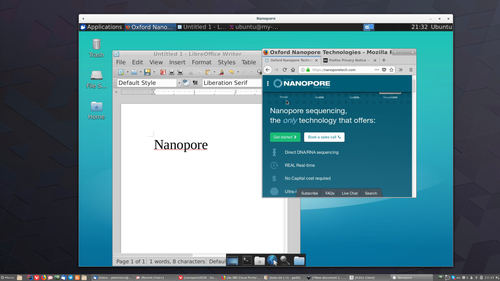 Moreover the simple VM project from now on allows you a more fine grained management of your images and storage. For example you can create a snapshot of your virtual machine which represents the current state of your VM.


This snapshot can then be used by your project members with flavor parameters (RAM, cores, etc.) of their choice. It is especially useful for workshops where you have to distribute software. Furthermore you can save data on a volume and provide other VMs access to it.
If you have other feature requests just contact us via cloud@denbi.de.
de.NBI Cloud Wiki
We now offer a de.NBI Cloud wiki with information about the Cloud Portal, the different cloud sites and OpenStack Quickstart sections.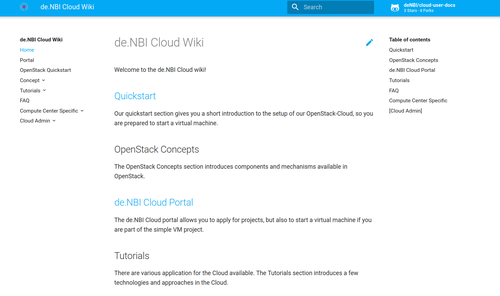 In addition you can read and try different cloud specific tutorials such as
If you wish for other tutorials just let us know and contact us via cloud@denbi.de.
Upcoming Events
de.NBI Cloud user meeting
The de.NBI Cloud User Meeting is your chance of meeting users, developers and administrators using the de.NBI Cloud. During the 3-day event (29.-31.10.2018) at Bielefeld University you can learn about life science projects hosted in the de.NBI Cloud. Talks and workshops will be given about current de.NBI Cloud projects and state of the art cloud computing technologies like Spark, Docker and Kubernetes.
Read more here.
Registration Deadline: 18.10.2018
Registration Link: here
Elixir Innovation and SME Forum
From the 15th to the 16th October there will be ELIXIR Innovation and SME Forum on Data Driven Innovation in Industrial Biotechnology in Frankfurt. The event is open to companies and aims to inform about ELIXIR resources and create a space to network for industry and academia. In the context of this event the de.NBI Cloud will be presented.
Past Events
Just like in the previous years de.NBI Cloud administrators gave a workshop in Cloud Computing at the GCB in Vienna. Topics like starting a grid infrastructure in the cloud or using Object Storage in the cloud where presented. You can find parts of the tutorials on our wiki page.
Peter Belmann, the de.NBI Cloud Governance, gave an oral presentation on the de.NBI Cloud as an opportunity for life scientists to get free computational resources for academic research in Germany. The presentation also emphasized that the de.NBI Cloud offers, among other things, specialized hardware like High Memory Nodes and Graphics Processing Units (GPUs) for the application of machine learning based analysis.
Maximilian Hanussek, an administrator of the de.NBI Cloud Tübingen, presented the de.NBI Cloud at the Center for Integrative Bioinformatics (CIBI) user meeting on the 21th of September in Berlin. CIBI brings together expertise in genome sequence informatics, computational mass spectrometry (proteomics, metabolomics), biological image analysis, and workflow system from the institutions: Freie Universität Berlin (FUB), Eberhard-Karls-Universität Tübingen (EKUT) and Universität Konstanz (UKON), the Leibniz Institute of Plant Biochemistry Halle (IPB) and the Max Planck Institute of Molecular Cell Biology and Genetics Dresden (CBG).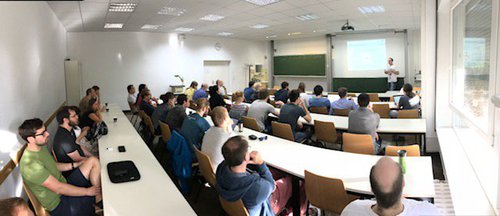 The Bielefeld Center for Data Science (BiCDaS) hosted its first Data Science Day on 23 May 2018 to present the topic 'Data Science' at Bielefeld University. True to the motto 'data first', the Data Science Day was an interdisciplinary event, and researchers and scholars from numerous faculties and central institutions, e.g. the university library, were available for questions and discussions. The de.NBI Administration Office presented the network's activities, the de.NBI cloud and ELIXIR Germany at the booth in the central hall of Bielefeld University.