The de.NBI cloud portal is ever-evolving and our team is working hard on providing you with a better, easier and prettier experience with our cloud.
Unfortunately, there are new or refactored features and changes which go past many of our users once they establish their workflow, changes which we think could greatly enhance their experience and workflow. Therefore we aim to inform you about new features more regularly so you may stay tuned with what our cloud has to offer.
Because this is our first feature update, we include some features and changes from the past two years which we think should be brought to your attention.
As always: Feedback in any form is greatly appreciated and can be sent to us at cloud-helpdesk@denbi.de.
Workshops
One of our most recent features is an easier and more comfortable handling of workshops. SimpleVM projects that stated that they would like to conduct a workshop have this feature automatically unlocked and the administrators of your project may find it at the bottom of the sidebar.
Detailed information on the usage can be found in our wiki.
With this new feature, you are able to create multiple workshops inside your SimpleVM project and start virtual machines for all your participants with only a few clicks. Another good thing about this: all your project admins gain automatic access via SSH to every started virtual machine.
On the workshop management page, you will find all the vital information about the virtual machines, i.e. the names, status and links to the research environments you chose. With a few clicks, you can even email your participants the information they need to access the virtual machine.
After the workshop is done, you are able to clean up the workshop with just one click and the portal will immediately delete all started virtual machines, so you have the resources to start the next workshop.


Project management
In the last two years, the project overview page got overhauled and most of it is already known to our users. But there are also some new features which some may not have seen yet.
We implemented a 'Contact support' button which will get you the important email address faster and will reduce the search time on who to contact in case of questions and complications.
Next to it, you will find a status button which will get you to an overview of our services and their status so you may find out faster if one of our services that you might experience connection problems with is down.
Furthermore, the administrators of your project are now able to switch whether the non-admin project members are allowed to see each other on the project overview page, which provides more privacy for the projects that need it.
Last and to us the most important feature, in respect to project management, is the ability to link multiple Digital Object Identifier (DOI) to your project. This provides us important feedback on how and for what purposes our cloud is used and helps other users decide if our cloud is the right tool for them and ultimately helps the growth of the de.NBI cloud.
An overview of all linked DOI can be found on our Publications page.
Vault
Privacy is important! Which is why we added a way to secretly, securely and temporarily store secrets and passwords which we need to communicate to our users.
Detailed information on the usage of Vault and the link to the UI can be found in our wiki.
Browser-based research environments
Many of you already found this feature and we are happy that it already enhances the workflow of many of our users.
Note: This feature is exclusively available to users of SimpleVM projects.
Browser-based research environments can be automatically installed when starting a new virtual machine and allow you to interact in a more comfortable way with your virtual machine through your browser and offer additional features depending on the research environment of your choice.
Detailed information on how to use the browser-based research environments may be found on our wiki.
Currently, you may choose between RStudio, Apache Guacamole, TheiaIDE and CWLab and in the following, we want to introduce RStudio and Apache Guacamole a bit more.
R is a well-known and widely used environment for statistical computing and data analysis. Now you have the ability to work with RStudio inside your browser without the need to install and configure it manually or to login via SSH into your virtual machine first. You get the comfort and power of RStudio and your virtual machine with just a few clicks.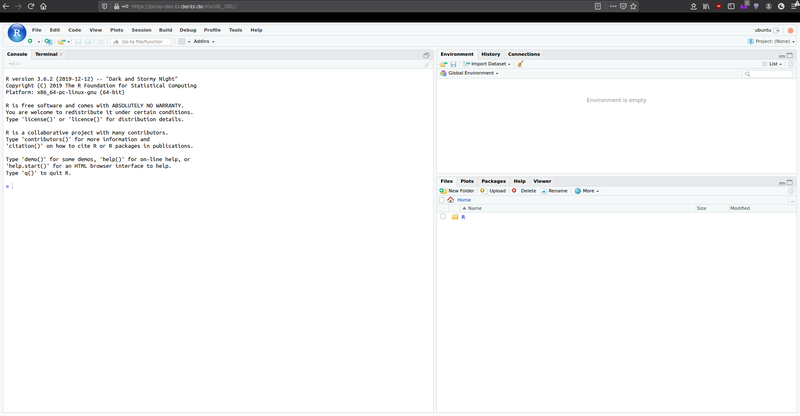 Apache Guacamole is a remote desktop gateway and offers you to work on your virtual machine with a desktop as most of us know it. You get a graphical user interface and you do not need to work exclusively with a text-based terminal and SSH anymore. Start a browser inside your browser, open a text manipulation program like gedit or an IDE like PyCharm or install new applications through the application manager.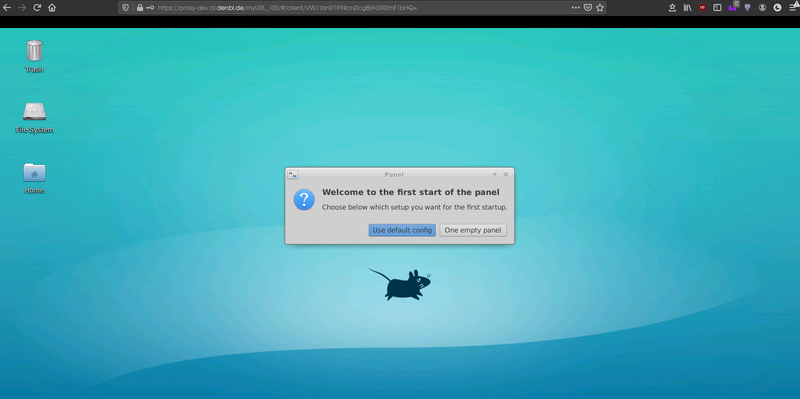 Also, you are able to allow other members of your project access to your research environment, so that multiple members may work on the same virtual machine. You may find this feature at the bottom of the detail page of your virtual machine. For more detailed usage information on how to manage multiple users and possible pitfalls when it comes to concurrent sessions, please refer to the corresponding pages under the SimpleVM tab on our wiki.
Wiki
The portal and its functions grow every month and with it the possibilities and of course its complexity. To offer you guidance through our cloud we try to update our wiki regularly and post new guides and usage information.
Some interesting reads:
Of course, our wiki offers more guides and information on how to use the portal and our cloud.
Miscellaneous
You can have a Miniconda environment plus Bioconda, Anaconda and Conda programs of your choosing installed automatically when starting a new virtual machine. See our wiki for more information.
We offer an overview of all publications linked to the de.NBI cloud which you may find at Publications.
Information about the status, up and downtime of some of our services can be found here status page.
We expanded our portal help page where you may find some pages and email addresses where you can turn to in case you have questions or need further assistance.